Down in Oz: Spybaiting Aussie Style
With the new technique of spybaiting being all the rage overseas and a magazine article in the pipeline, I needed to get out for some first hand experience to properly test out the Realis Spinbait and get a few fish for the mag.
Firstly I will introduce the Spinbait, this lure is a slender profiled, sinking stickbait equipped with tiny propellers on both the front and the rear. It has a seductive wobble both on the drop and a nice body roll when retrieved slowly. I have used these lures in a previous post where I put it to the test on some sooty grunter and barramundi earlier in the year when the river was flooding, but this time I wanted to put it to the test in the sweet water on some of our iconic saratoga.
One of my workmates had been asking to come for a fish so I decided to drag him out over the range for this trip, also accompanying us was a fellow DUO team member Billy and my youngest brother Ethan. We met up at 5:30am before setting off on our mission and after a long drive through thick fog we arrived at our first destination. A quick trek through the bush was all that was needed before we were at the waters edge and straight away we were greeted with a hot bite on sooty grunter. Billy and I managed a few on the Spinbaits while Ethan and Zeek banged a few on surface, these were only average sized fish around the 30cm mark but it made for a fun start to the session. The camera didn't come out until Zeek managed a double header on his popper which was a real highlight for the morning.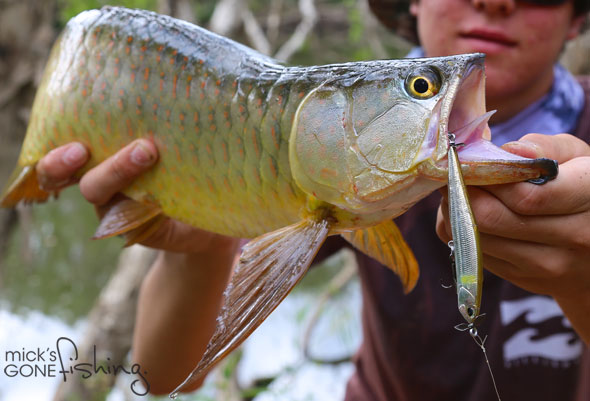 After catching a few sootys we decided to make our way upstream in search of our target and in the first clearing, on the second or third cast, my chartreuse Spinbait landed right on a fishes head. It couldn't have been a more perfect cast really and I don't know whether the fish hit the lure out of instinct or as revenge for scaring it so suddenly… I managed to drive the hooks home which sent the fish into an acrobatical display as it lept out of the water putting on a show as he snaked through the air. Fortunately the hooks managed to hold and after a fun little battle on my new Tairyo Nano Speed Plus 2 rod, I had this fish at the bank ready to be landed.
We had made a deal to take turns at casting to fish we saw on the surface and after a couple of hundred metres walking the bank we had all had a shot at a few fish each. It is currently breeding season for these fish and being mouthbrooders, the females swim in the upper water column with the warmer water, helping the eggs to hatch as they hold onto them inside their mouths. This counts them out of the game as they refuse to eat for the entire incubation period. We had managed a few nudges from these breeding females but most of them would follow our lures out of instinct without coming close.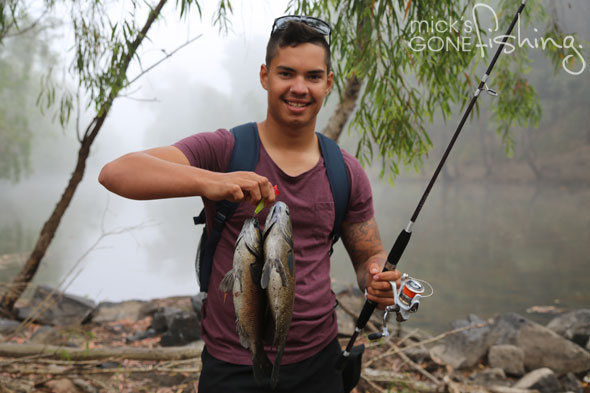 The fish which were feeding (the males) were sitting lower in the water column and a keen eye would spot them as they cruised along the shade lines, making sight casting an option. After around an hour we had managed another couple of sootys and we all lost atleast one toga on the jump before deciding to have a look at a new location. After a 20 minute drive we arrived at this spot and as soon as I got to the water I spotted three fish milling around on the surface.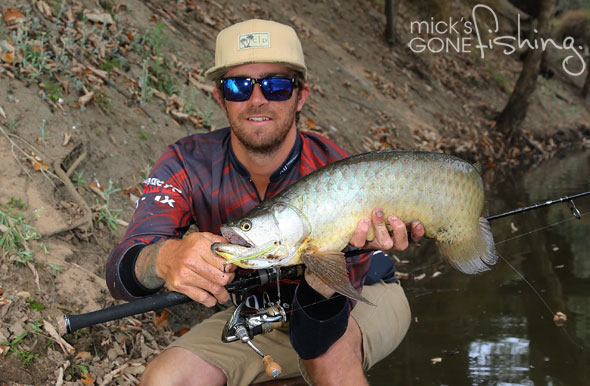 One of these fish was sitting down deeper and looked bigger than the rest so I sent my Spinbait flying in his direction. Almost instantly I caught his attention when the lure hit the water and the fish gave chase as I slowly rolled it back just beneath the surface. A split second later a bow wave appeared and my lure was hit, I knew this was a good fish so I went easy on him, being careful not to pull the hooks. After a fun little battle on 6lb Toray Shallow Finesse I had the fish beaten, the bank was steep with a considerable drop to the water so Zeek grabbed a tree and held onto Billy so he could get down to land it. It was a top effort by the boys getting this fish onto the bank for a photo and I'm glad they did as it was a cracking 75cm+ model. After a few quick pics he was sent home to catch again next time.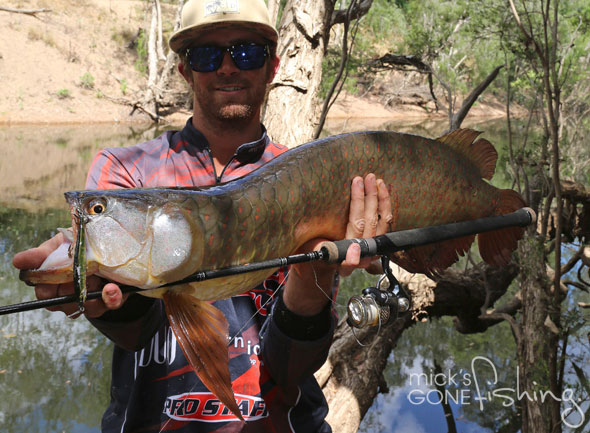 We continued our way along the bank sight casting at several fish but not many were interested in our offerings, that was until Billy managed to finally make one stick. It was only a small specimen around 60cm but big enough to put a smile on the young lads face.
Ethan and Zeek both hooked up to a few nice fish but as anyone who has chased toga before would know, getting the bite is the easy part. Their boney mouths and snaking jumps makes getting them to the bank a lot more difficult than it looks. Not to mention the tight areas which you need to cast through when fishing land based and underwater structure which all add to the degree of difficulty. Throw into the mix a bunch of steroid fueled sootys which take pleasure in stealing lures meant for toga when fishing with such light tackle, most of the time you don't stand a chance. I had the displeasure of losing three of my Spinbaits to these agro little buggers which made short work of my 6lb braid and 12lb leader…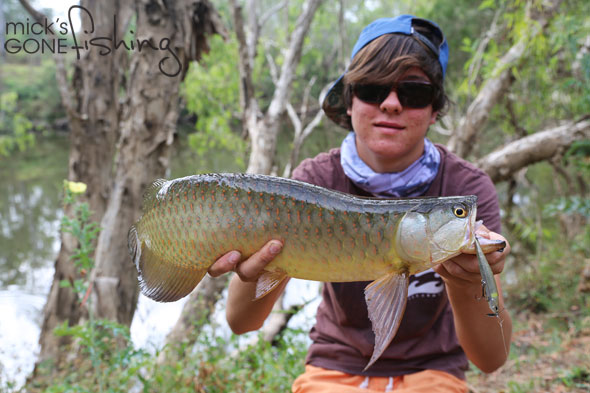 After that Billy managed a big surface hit on the new DUO Next Blue Whoopie so I decided to have a crack at a few fish on surface, I tied on a Realis Popper 64 and not long after I had spotted a decent fish on the opposite bank. With heavy cover preventing me from getting a cast at this fish I decided that the only way I'd have a shot was to walk out along a tree to get me away from the bushes on the bank. I sent a cast in the fishes direction but it turned out to be a female with a mouthful which left me hanging (literally). I decided to prospect and sent out a couple of blind casts when an angry male shot out from the depths amongst a snag to engulf my lure. It was an epic battle fighting this fish, which decided to head to the opposite side of the tree to which I was holding my rod and straight into a snag, all while trying to keep my balance on a tree branch… After some fancy rod and footwork I had the fish ready to be landed which Ethan took the honors in doing.
We were just about to call it a day when I was dominated by a good fish in deep water, I don't know what happened but it ended real quick with my braid giving way on the strike. I guess the sootys earlier in the day which had bricked me caused a weak point that lead to this disappointing finish. By this stage I was done, I wasn't tying on another leader and Ethan and Zeek both looked like they'd had enough so we decided to call it a day.
If you are interested in learning more about the spybaiting technique make sure you check out my article in the next issue of Hooked Up magazine which is free from all good tackle stores. There will be a few tips and tricks, along with how to present the Realis Spinbait to tempt those cagey fish.
Anyway that is all for now, I hope you all had a great weekend! Stay tuned for the GoPro footage which will be posted up very soon.
Thanks for reading!
""